Fun and Laughter in a Winter Wonderland
The trend is showing no signs of stopping: not every guest who comes to Nassfeld necessarily wants to put on downhill skis or a snowboard.
What matters most to many people is the wintry landscape, the peace, the nature, retreating to the mountains. One thing's for sure: it's never boring in Nassfeld – a diverse programme of activities awaits!
80 KILOMETRES OF CROSS-COUNTRY TRAILS WIND THROUGH THE SNOW-COVERED LANDSCAPE 
The range is almost overwhelming: there are idyllic forest trails, challenging climbs, a route over the Nassfeld Pass and 'sightseeing tracks' through the entire valley. The trails even cross the border – they run through Austria and into neighbouring Italy, past one or two gourmet ski lodges with Italian specialities.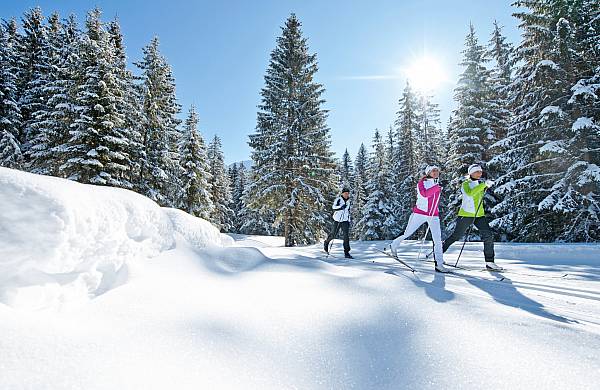 MOUNTAIN EXPERIENCE: SNOWSHOEING AND HORSE-DRAWN SLEIGH
55 kilometres of wintry hiking trails await active Nassfeld holidaymakers. We can particularly recommend snowshoeing – complete with bacon tasting. Five toboggan runs – three of which are floodlit – wind their way down the Nassfeld resort. And for those who like things a bit more laid-back, there's always the option of a ride on a horse-drawn sleigh or a husky sleigh tandem.