ADVENTURE IN THE CARNAC AND GAILTAL ALPS
Hiking is in. Strolling casually through a mountain idyll is cool, and climbing is getting trendier by the day. To start with head to our in-house bouldering wall. Then have a go on our climbing wall before going out to try the real thing in the mountains.
CLIMBING AT ARENA FRANZ FERDINAND NASSFELD
The Nassfeld/Lake Pressegg region is a Dorado for climbers. And that starts right here in the Arena Franz Ferdinand Nassfeld hotel. At 16 metres, we have one of the highest climbing walls ever built in an Austrian hotel. All our guests need to start climbing here is a partner who has the belay rope well in hand.
Once a week we offer our guests the 'Climbing with Our Guide' course. For internal & external guests who would like to come by to try things out, this little adventure costs EUR 10,00.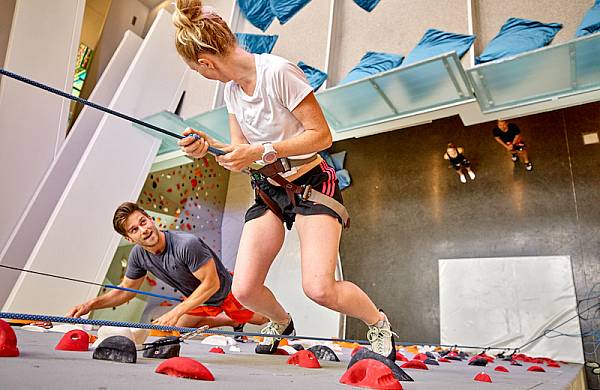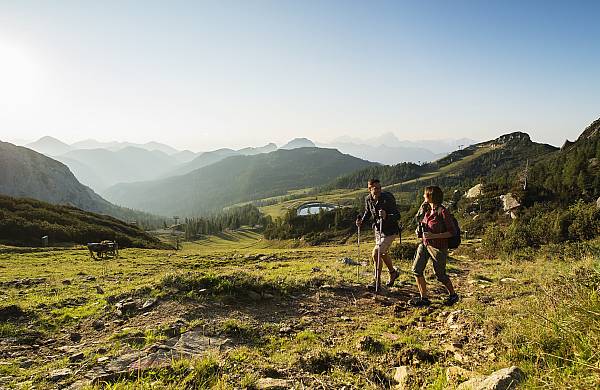 PARADISE FOR ALPINISTS
Numerous via ferratas for beginners and pros in the Carnic and Gailtal Alps are waiting for you – and your reward for reaching the summit is a truly breathtaking view!
For beginners we recommend the Rocklabyrinth, and for climbing enthusiasts the Däumling via ferrata. The secured via ferrata with difficulty level B/C is 500 metres long. To reach the peak, alpine pros have to negotiate an altitude of 150 metres.
Intrepid climbers will want to try their hand at waterfall climbing: get an adrenalin rush by abseiling down 15-metre walls.
The region offers a huge range of climbing routes and courses for both beginners and experienced climbers.
CLICK HERE TO SEE THE INTERACTIVE FOUT GUIDETOURENGUIDE
ROCKLABYRITNTH & FLYING FOX
Forest + rock faces + rope course = Rocklabyrinth. And then there's the Flying Fox mile. Together, the Rocklabyrinth & Flying Fox mile offer not only crazily high rope courses and Flying Fox via ferratas, but also climbing routes that go between, over and through natural rock formations. It's a truly unique experience in Carinthia. Plus the whole climbing park has been equipped with the SafetyLine system since 2016. That's the highest safety level available for an adventure park. New: the children's courses "Dwarf Area" and "Magic Forest" – for children aged 5+ and 100 cm or 3'3" tall.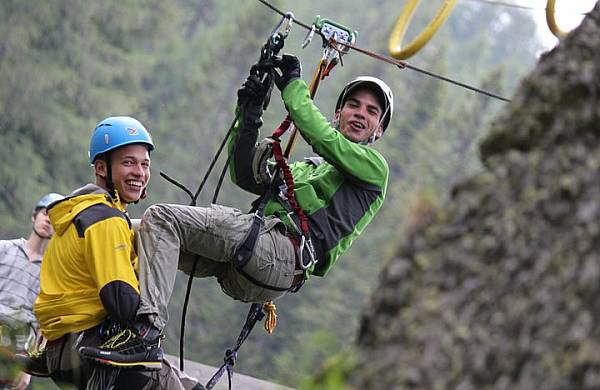 HIKING IN NASSFELD
In the sunny south of Austria, our guests can explore over 1,000 kilometres of footpaths. Themed trails, themed walks, Geotrails, long-distance trails, ascents, circuits and even routes into neighbouring Italy – a paradise for sporty walkers and nature lovers. When you've finished reward yourself with some Gailtal bacon and Gailtal alpine cheese at one of the numerous alpine meadow cabins.
The hikers' bus will take you to the starting point of each of the planned routes – and on very hot days you can save yourself some time and effort by hitching a ride uphill on one of the cable cars.